LINKEDIN
Linkedin logo hand painted onto a variety of ceramic plates, permanently installed onto the entrance wall of the LinkedIn cafeteria. A collaboration with Rapt Studio.
GENERAL ELECTRIC
We designed and created this custom interactive piece as an homage to Thomas Edison. I call it
"The Mad Scientist", and envisioned cleaning up Edison's workshop and making my own absurd invention from the parts. I could stare and play with this piece for endless hours. AE COM brought us on to create art for this space.
GOOGLE
Wall sculpture in a mini lounge. 8'H x 14' W individual painted MDF petal shapes.
Levi's STADIUM
Collaboration with the 49ers, Goodwill, Antlre and Levi's. Football fans donated 18k pairs of jeans, we separated them by shade at every yard line. Over a span of 20 hours, our crew of 50 covered the field from dark to light following the sunrise. Negative space left in the center with a giant recycle symbol. Five time lapse cameras (filmed by Whitney Dinneweth) captured our installation, it was breathtaking.
GOOGLE
Giant painted plywood cassette tapes sculpture.
TURNER BROADCASTING SYSTEM
Our 8' x 8' deconstructed RCA Victor Vista television art piece for TBS and Rapt Studio in Atlanta GA.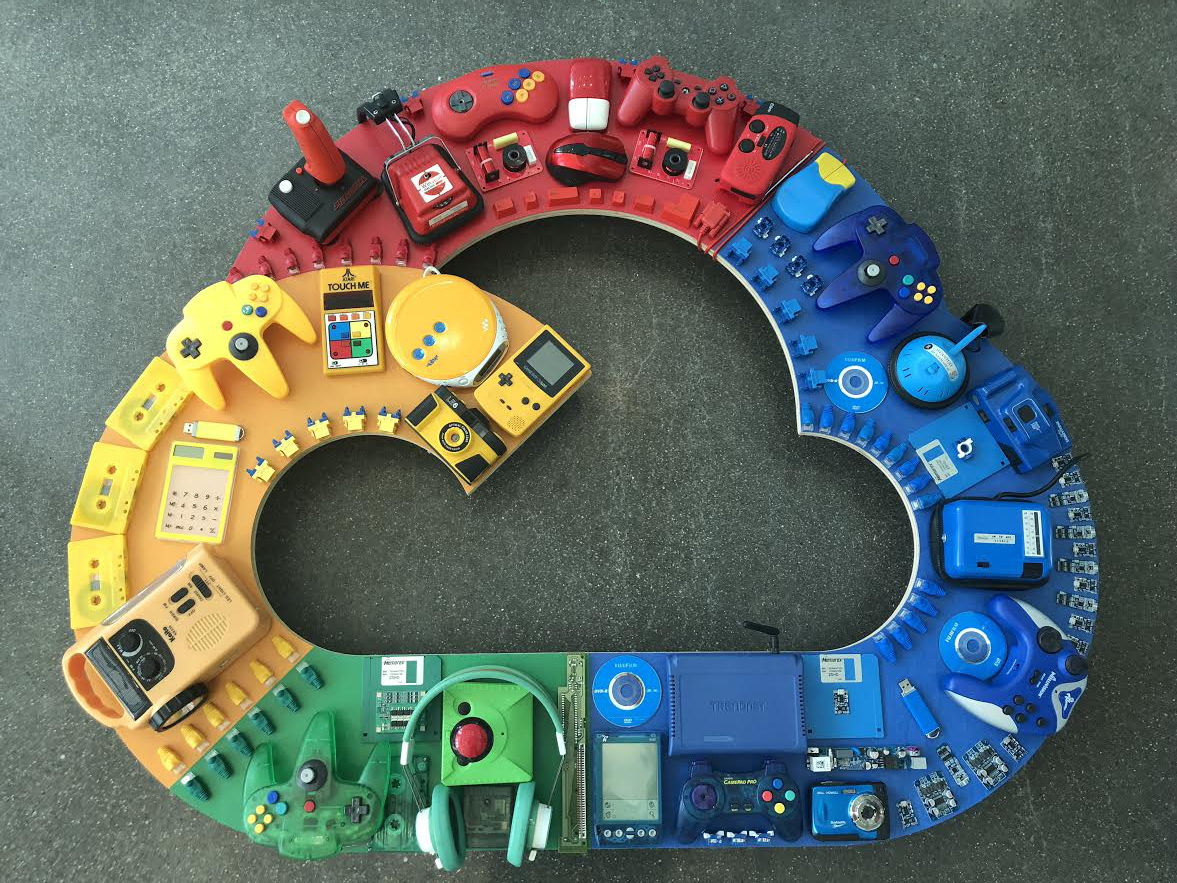 GOOGLE CLOUD
Vintage technology sourced in original colors and knolled to perfection. Adhered to stained and CNC cut wood cloud shape, 4' x 3'.
ADOBE
Digitally printed color fade onto stacked plywood and then CNC cut. We sourced our physical interpretations of Adobe tools for texture, and to include the recent addition of TubeMogul to Adobe we added in our digital media representations. Most items are vintage - arrows, super 8 cameras, magnifying glasses, letterpress T's, paint brushes, rulers, lassos etc. We built in a blue tooth speaker and looped a digital video of clouds and waves for the full "experience". Everything was then knolled and organized to reach it's ultimate OCD potential.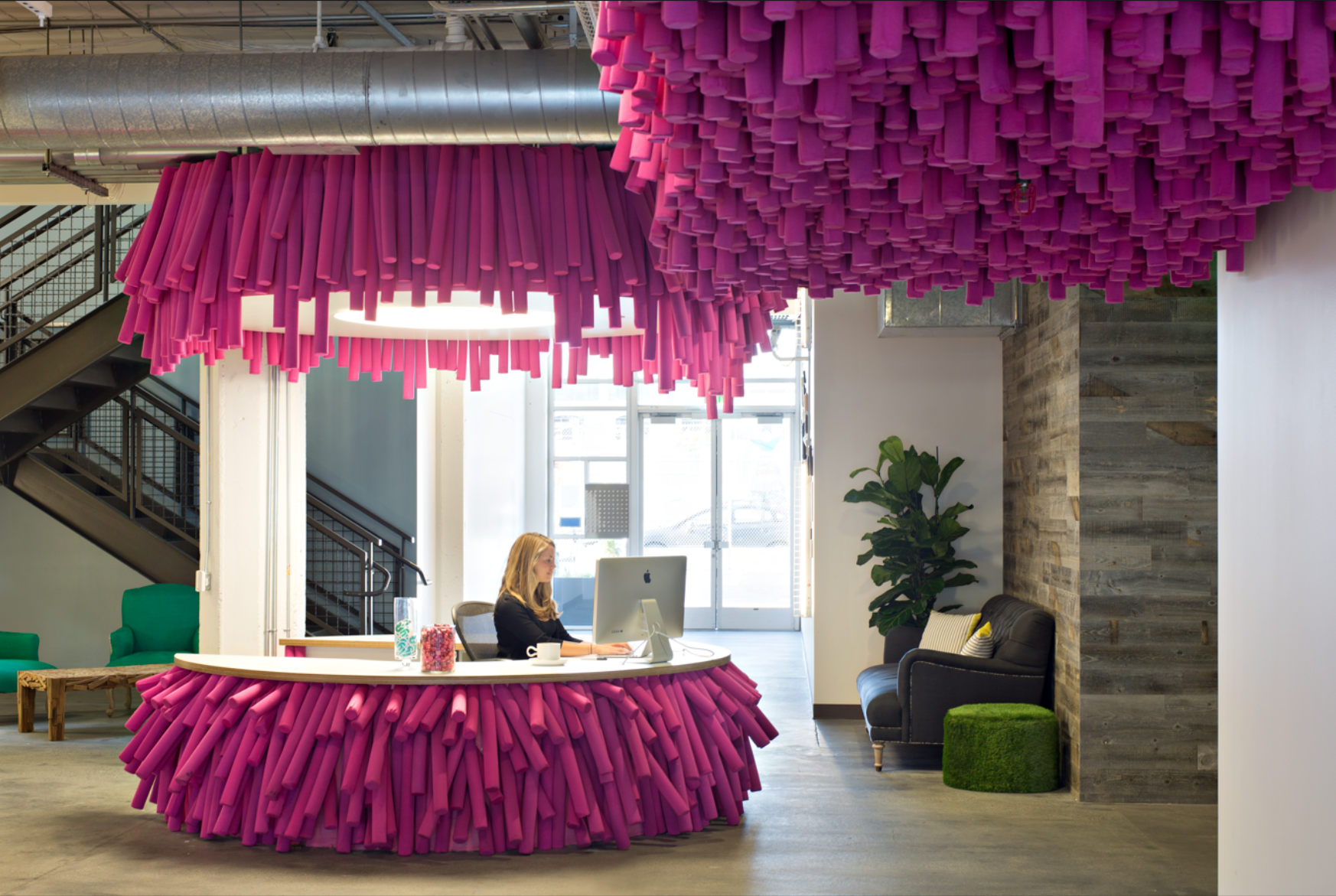 LYFT
Reception desk and lobby entrance covered in 7000 pool noodles encased in sewn fabric tubes, attached to metal ceiling grids with magnets. Our modern take on a closeup of the notorious LYFT mustache. A collaboration with Rapt studio.
GOOGLE
Vintage cars in gold, succulents in hand painted pots and hundreds of hardback blue books and gold and blue painted driftwood for the reception area. This is a collaboration with Rapt Studio, photo credit Rapt Studio.
GOOGLE
Giant melted popsicles in logo colors. Painted and resin coated wood and pine shapes, each 7' x 6'.
LEVI'S
Vintage indigo dyed fabric made into our custom robot flags for Levi's stores.
LINKEDIN
Hundreds of vintage ties adhered to 30' lettering in the offices of LinkedIn. A collaboration with Rapt studio.
UBER
Cafe lounge floor and wall murals in collaboration with O+A.
GOOGLE
Vintage mechanic tools painted and knolled into perfection for the cafe which was originally an auto garage. This collaboration with Rapt Studio was dreamy. Photo credit: Rapt Studio
ARGO AI
Argo AI is a self driving technology company so I felt that this 50' long interactive wheel wall was perfectly fitting. Yes, it's ADA…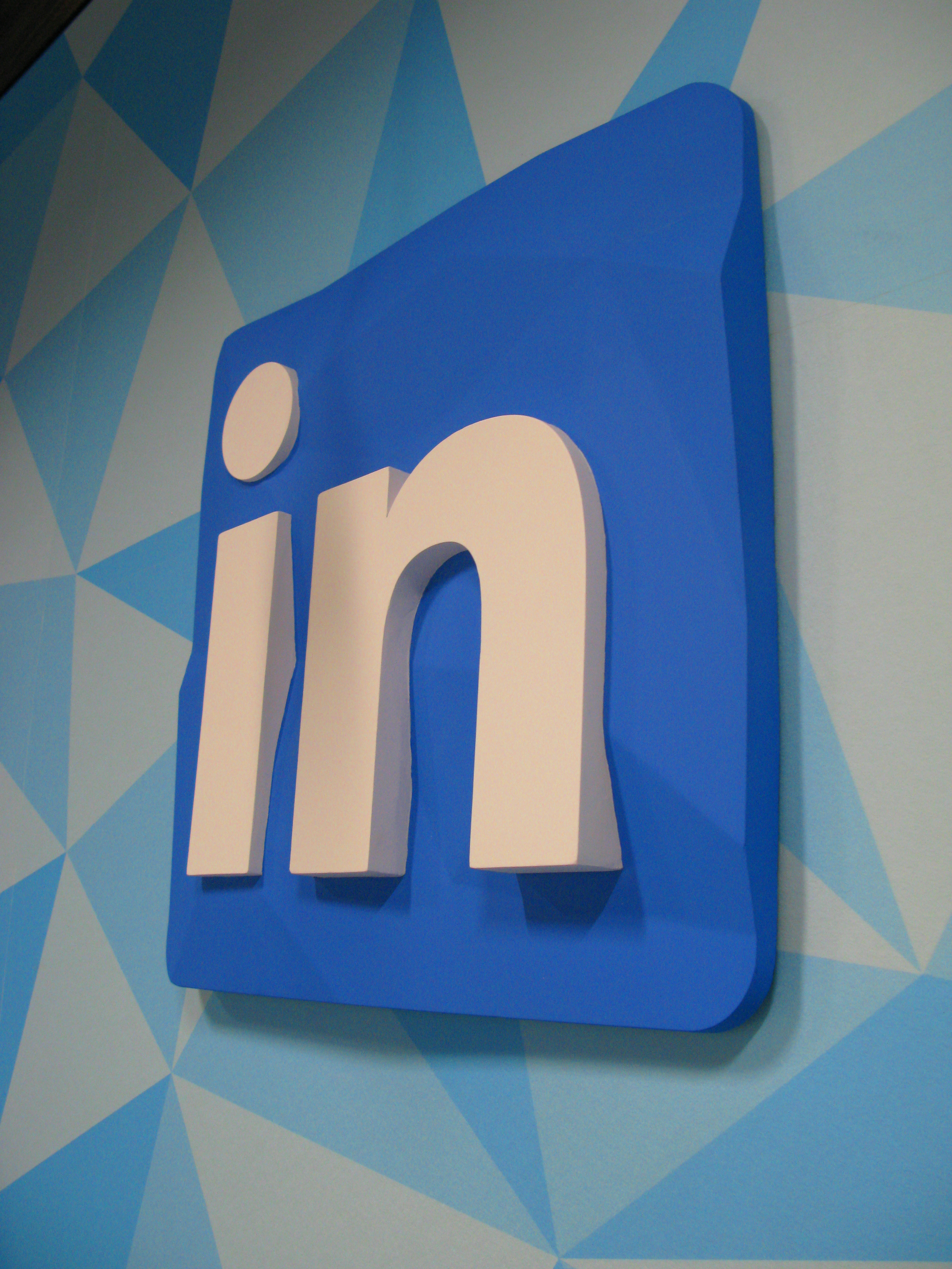 LINKEDIN
CNC cut faceted threedimensional sign for Linkedin headquarters. Made with high density foam and automotive paint. A project with Interior Architects.
TBS
Our 3D graphic mural made from hand painted wooden spoons for the TBS Food Hall, a collaboration with Rapt Studio 6' H x 22' W.
ADOBE
This sound wave was created with over 3000 nails and over 700 yards of cording to span 30' in the new Adobe Headquarters in San Jose. It reads "customer engagement" which was recorded by Adobe's very own sound engineering team.
UNITY TECHNOLOGIES - AUSTIN, TEXAS
Our interactive wall of vintage stereoscopes representing the first "virtual reality" and paying homage to Unity's amazing technology in VR and AR. Each stereoscope has a unique vintage reel and is attached to custom oxidized steel brackets with magnets making the piece interactive.
SEPHORA
Faceted mirror PLAY sculpture created for Sephora HQ interiors. The permanent piece is 9' x 3'.
GOOGLE
Wheat pasted poster collages on fire treated plywood throughout the space, one of 23 unique pieces.
INFORMATICA
Game room murals inspired by vintage atari games.
SEPHORA
Play sculpture made of acrylic and automotive paint covered makeup. Created for the Sephora headquarter interiors.
BOX
"Peace on Nerf" Our 30' long sculpture mural for BOX headquarters made from Nerfguns and army figurines, all painted white as a peace statement. A project with Sky Design.
GOOGLE
Art piece of vintage dice on natural canvas 5' x 5'.
ARGO AI
5 ethernet cable weavings in logo colors on birch plywood
STITCHFIX
Copper cord with copper nails on painted white wood across a 20' x 10' span at the Stitchfix headquarters. A collaboration with Blik Inc. in San Francisco CA.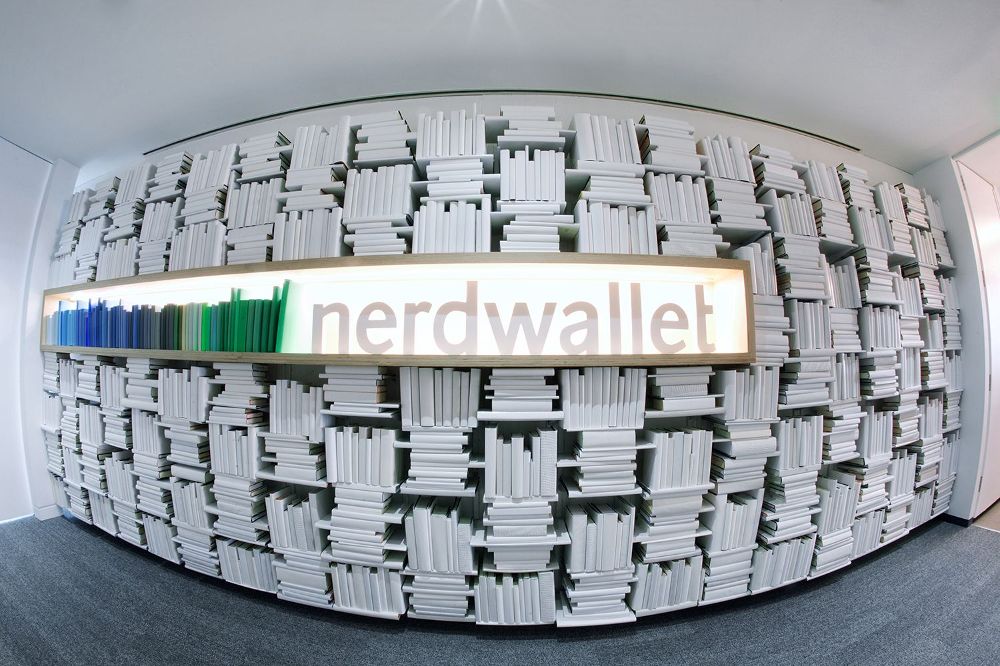 NERDWALLET
Lobby floating books and 3D letters installation , 20' long, a collaboration with Rapt studio.
GENERAL ELECTRIC
We made the world's largest wall of outlets, custom for GE. There are a few live outlet sprinkled throughout the piece which are matte vs. gloss and one lone GE blue cord for the touchscreen. It almost looks like subway tile and is an OCD dream come true.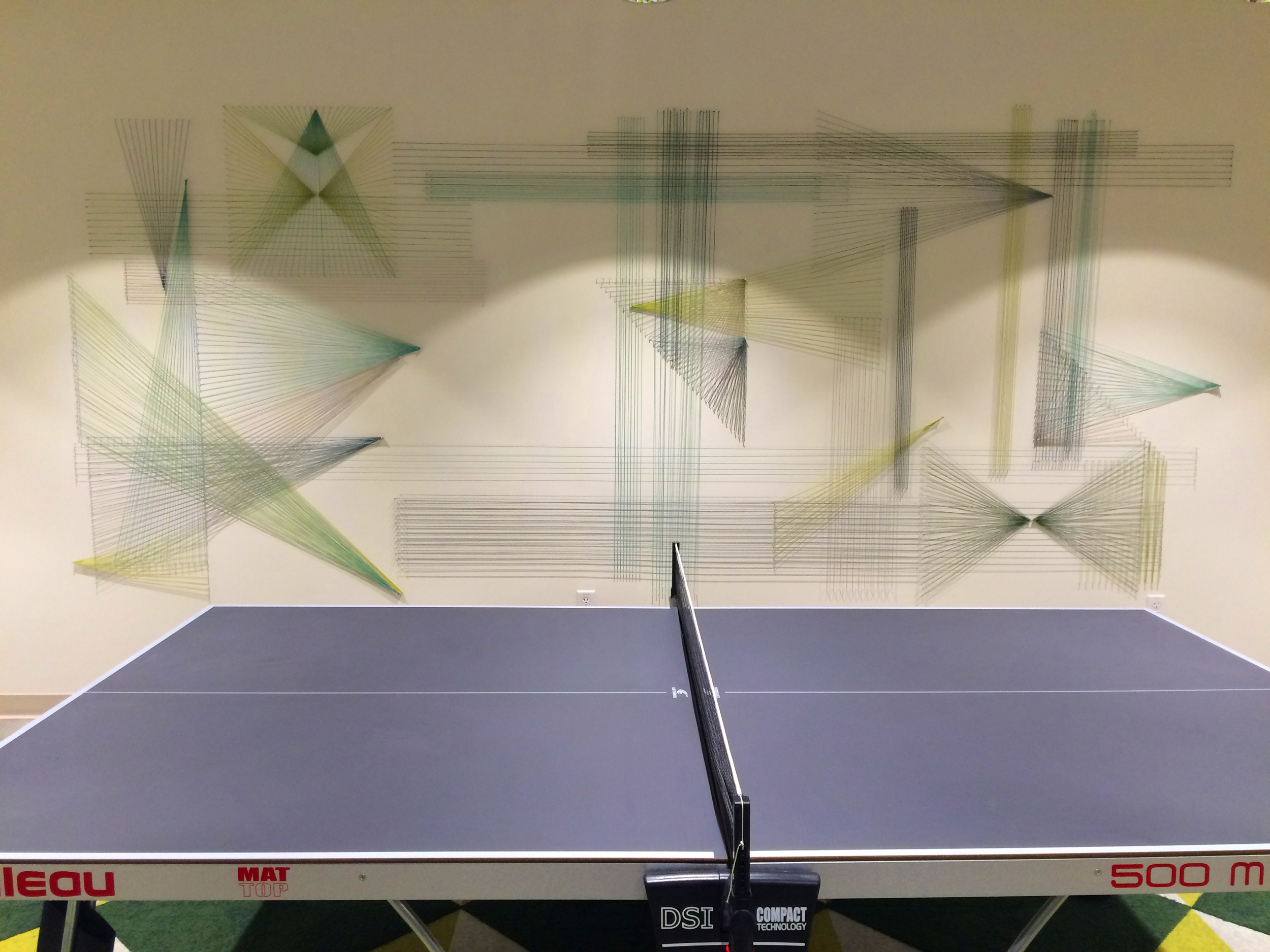 CISCO
Original string art mural for Cisco headquarters, a nod to connections. A collaboration with O + A.
BOX
Pac-man/Lego/pingpong inspiration wall for BOX employees.
NERDWALLET
Logo wall made of legos and baseplates for Nerdwallet, 20' long, a collaboration with Rapt studio.
CONFIDENTIAL CLIENT
Stationary and interactive walls made with custom birch pegboard and neon triangles.
ALTERRA
Light box cube for indoor Alterra's basketball court. Their mission statement CNC cut braille, backlit with semi transluscent white window film. A collaboration with Rapt studio.
SEPHORA
Neon PLAY wall sculpture encased in acrylic. This 9' x 3' piece was custom made for the Sephora HQ walls.
49ERS + LEVI'S
Sewn denim with steel branding, a collaboration with Kyle Minor.
NETSUITE
Ping pong logo art piece for Netsuite 6' x 6', a collaboration with Rapt studio.
UBER
Graphic murals on cement, a collaboaration with O+A.
GOOGLE
Wall of vintage skateboard collection 25'.
TNT/TBS
16' long art piece with Turner Broadcasting Systems brand colors, Foam and stainless steel. Collaboration with Rapt Studio
GOOGLE
Wheat pasted backdrops on fire treated plywood with dripping columns throughout the space.
THE NORTH FACE
Our 20' backlit steel wall of Half Dome is the glowing entrance to the NY showroom. The hand drawn map is laser cut into steel and oxidized onsite.
NETSUITE
Digital clouds sculpture installation, white foam adhered to wall, a collaboration with Rapt studio.
49ERS /LEVI'S STADIUM
Backdrop in the 49er stadium museum, 28' long denim American flag.
FITBIT
Dyed rope strung between 4 x 4's at Fitbit headquarters. Using stopper knots and bowline knots at the ends. Design by Matt Cottrill of Rapt studio.
GOOGLE
Illustrated laser cut powdered coated dimensional leaves mural.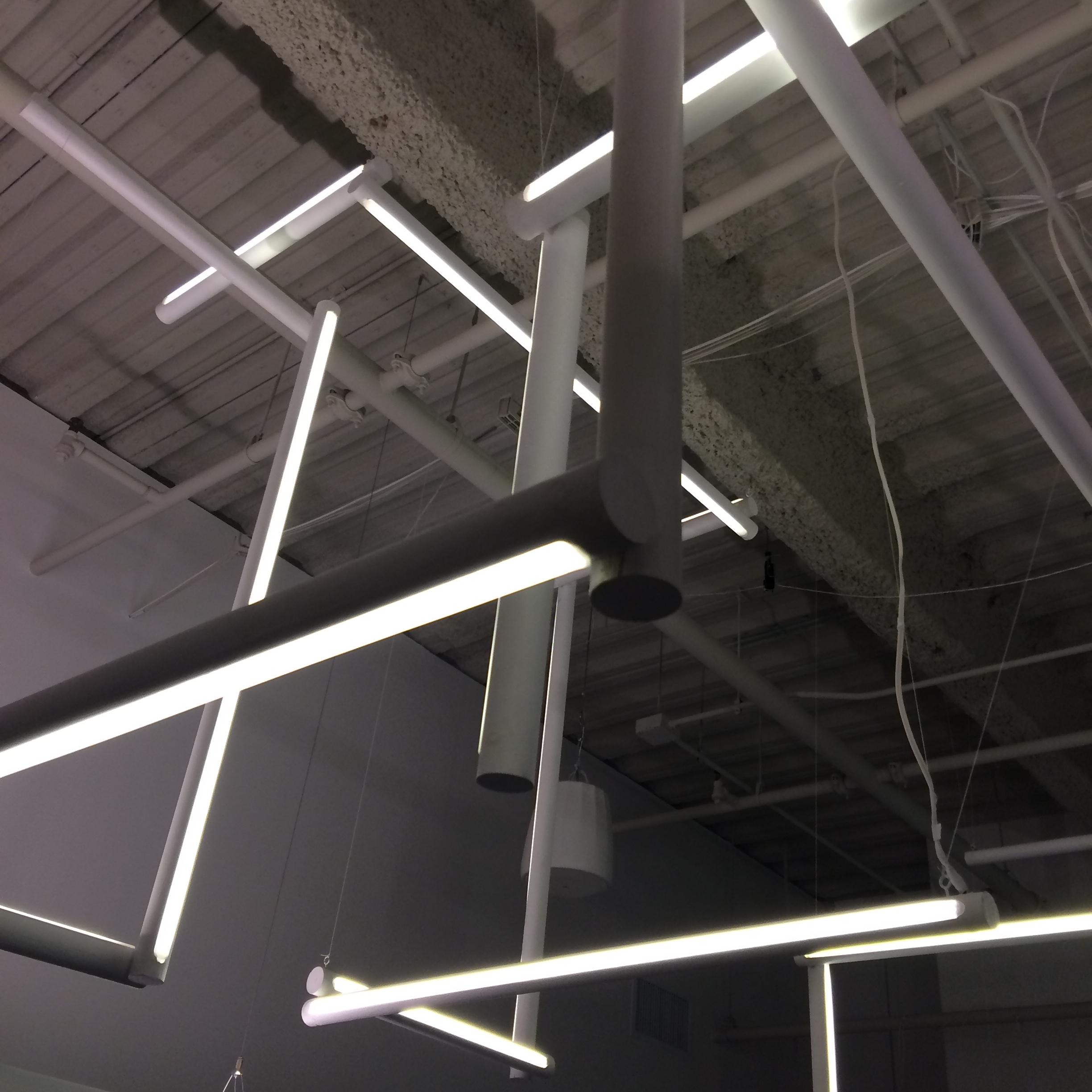 MICROSOFT
LED light sculpture for Microsoft break room, a project with O + A.
GOOGLE
Printed/painted imagery on OSB, plywood and transparent stretched fabric creating wall sized collage.
GOOGLE
Wall sculpture in an extra large conference room. CNC cut multi layered painted MDF. 9' x 20'
GAP INC.
GAP Inc. headquarters clad with sewn denim panels, floor to ceiling. A collaboration with Julia Lemke.
BASALT
Our 28' long art piece for Basalt, a restaurant designed by Rapt Studio. We collected and sewed together 3000 vintage time cards from the early 1900's. This piece has so much movement and history, it fits perfectly.
INFORMATICA
A pop of color with our giant handmade California denim flag for Informatica in Redwood city.
GOOGLE
CNC cut pine and paint multi layered wall sculpture in lobby area.
UNITY TECHNOLOGIES - AUSTIN, TEXAS
A pattern of fisheye mirrors paying homage to the altered reality that this company focuses all of it's brilliant efforts on. It's our nod to the amazing work coming out of Unity.
GOOGLE
Seventy pairs of shoes hand painted and converted into vintage skates with customized laces.
UBER
Hand painted art on cement and wood at Uber headquarters in collaboration with O+A.
LYFT
Our art created for the outside wall of the hidden library. Nostalgic faces painted into generals uniforms in custom gold leafed frames. A collaboration with Rapt studio.
LEVI'S STADIUM
Resin Jeans timeline of the history of Levi's, denim, steel, resin, 2 locations each 45' long, located in The 501 Club.
UBER
Graphic statement hand painted on tile, a collaboration with O+A.
THE HONEST COMPANY
Custom copper butterfly reception area in collaboration with Rapt Studio.
TURNER BROADCASTING SYSTEMS
Cutting board mural wall in the Turner Broadcasting Systems Food Hall, a collaboration with Rapt Studios.
GOOGLE
"Time Flies" Various fonts and sizes of four thousand numbers hung at different heights creating a canopy of time.
GOOGLE
Five paintings on natural canvas, each 5' x 7' and hung with natural cotton sailing rope on pine dowels with grommets and colored stitching.
RADIUS
Dimensional lobby art, 6'x6' string art.
GOOGLE
Painted wall mural 9' x 15'
GOOGLE
Free standing modern Aspen tree sculptures made from stacked painted wood blocks.
GOOGLE
Denim and vintage patch wall hangings 6' x 8'.
GOOGLE
28' tall printed woodgrain illustration on transparent fabric.
GOOGLE
Vintage luggage sculpture
GOOGLE
Modern birch trees on natural canvas wall covering 18' H x 35' W.
ADOBE
35' x 7' dimensional mural
Paintings on canvas and wood, digital prints on fabric , aluminum and wood, bleached denim, stained wood, mounted over wall painting. Inspired by the Santa Cruz Mountains.
BOX
Deconstructed giant curly slide hanging sculpture 3' H x 14' W.
GOOGLE
Neon vinyl tape murals in game room - full surround experience.
GOOGLE
LEVI'S
Handmade American flags out recycled Levi's jeans, one for each store 4' H x 5' W.
GOOGLE
Matte board slotted leaves sculpture 3' H x 20' W.
GOOGLE
Vintage library cards wall covering 9' H x 14' W.
GOOGLE
Precarious stacked box sculpture 3' H x 8' W.
GOOGLE
Illustrated birch trees on layered transparent panels 15' H x 28' W.
GOOGLE
Denim wrapped column with appliquéd Levi's pockets and copper nails paying homage to local San Francisco companies 2' x 2' x 6'.
GOOGLE
Vintage typewriter collection with poems.